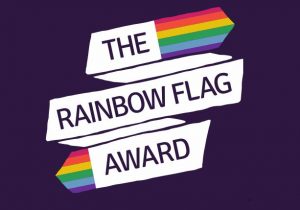 This year, at Biddick Hall Junior School, we have begun our journey to becoming a Rainbow Flag school.
The Rainbow Flag Award is a national quality assurance framework for primary schools, secondary schools, SEND schools and colleges. The award focuses on positive LGBT+, (lesbian, gay, bisexual, trans, plus other related identities), inclusion and visibility.
There are six sections to gain for achieving a full Rainbow Flag Award:
Skilled Teacher
Supportive Governors and Parents
Effective Policies
Pastoral Support
Inclusive Curriculum
Student Voice
The Rainbow Flag Award encourages a whole organisation approach to LGBT+ inclusion, as well as developing strategies to effectively challenge and combat LGBT phobic bullying.
At Biddick Hall Junior School, we are committed to improving the lives of all of the young people that we work with. This includes the LGBT+ young people in our care, those from LGBT+ families, and LGBT+ staff members.
Launch
On Friday 18th February, we are going to officially launch our Rainbow Flag journey.  To do this, all children in the school will be introduced to the aims of the Rainbow Flag Award and the terminology of the LGBT+ community. In their classes, they will then learn about LGBT+ History and why LGBT+ inclusion is so important.  Following this, the children will look at some influential people who are part of the LGBT+ community and to solidify this, all children will create some artwork which shows that our school is a welcoming and safe place for ALL. This will be a stand-alone Rainbow Flag Day with the main focus being on LGBT+.
Curriculum
After the initial launch, we will be delivering an inclusive curriculum throughout all year groups where LGBT+ will be made visible. For example: if we were looking at flags, the pride flag would be included in this and its significance mentioned as part of the overall lesson on flags. If we are talking about pronouns in grammar, children will be told that some individuals may not be comfortable using gender specific pronouns such as he/his; she/her, they may prefer gender inclusive pronouns such as they/them. The focus is about pronouns and how they can be used to replace an individual's name, but it has been inclusive of LGBT+ people.
The terminology that we will be using in school is detailed below. All children will be introduced to, and responsibly use, these terms.
How you feel about others:
Orientation – Who you are attracted to
Lesbian – A woman attracted to another woman
Gay – Attracted to a person of the same gender
Bisexual – Attracted to your own gender and other genders
Straight – Attracted to a person of the opposite gender
How you feel about yourself
Transgender – A person who has a gender identity different to the gender they were assigned at birth
Cisgender – A person who identifies with the gender they were given at birth.
Non-binary – A person who has a gender identity that is neither male or female
To find out more, please visit https://www.rainbowflagaward.co.uk/ or, please feel free to contact school with any comments or questions.
Yours sincerely,
Mrs M Collinson
Head teacher