Maths, Science and Technology Week
Just before we broke up from school we celebrated Maths, Science and Technology week at Biddick Hall Juniors. We had a brilliant week and thoroughly enjoyed our Discovery Zoo science visitor, Paul, who brought in lots of interesting creatures for us to learn about. The science competition for this week was linked to these amazing animals and we had to produce a leaflet/ information/ poster that detailed some of the new facts we had learned. Science council met on the Monday for our club as usual and after some tough decisions we chose a winner from each year group.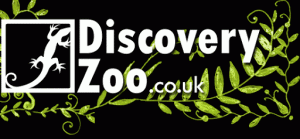 The winners are: Year 3 Daniel, Year 4 Miley, Year 5 Isabella and Year 6 Luna. Congratulations to you four! Well done! Your winning work will be sent on to Paul at Discovery Zoo for his web page and of course displayed in our school on the science board on the way to the library.
Pupil Voice.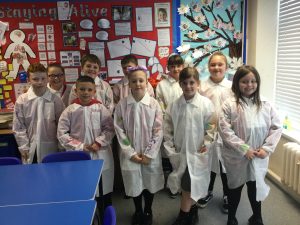 These are the Science Shirts we created for when we meet on Mondays.
This term in Science Council meetings we have been organising special visitors to come to our school in Maths, Science and Technology week to highlight science. We were given choices of potential people and groups that could visit our school to teach about science in the wider world and then we held a vote to democratically select who we would like to come.
The results were unanimous – we were all equally keen to ask 'Discover Zoo' company to come in and bring in rainforest insects and creatures for all classes to experience. We then sent off an email and enquired as to the costs. Miss Drake took the information to Mrs Collinson who agreed this would be a fun and exciting science task to brighten our focus week. We are so excited that we have been responsible for helping to plan and organise this very cool science experience.
We have worked in groups to make posters (we have some photos of these for you to see too) to advertise animals that could potentially be visiting us: these are now displayed in each of the corridors and on our special science council board. We have researched Discovery Zoo online and really feel this workshop will be such a brilliant activity for us all: we really hope you are all as excited as we are!
The Science Council worked on a poster to be displayed in every classroom around the school. We considered what Science is and means to us as children at Biddick Hall Juniors and hope you like our final poster.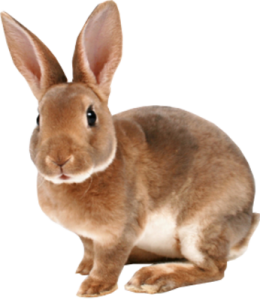 Miss Drake, also, asked for a rabbit (one of her favourite animals) to be brought in too. The rabbit is actually a therapy rabbit used to help people with high levels of stress, anxiety or worries. As a school that tries to be mindful of others and aware of those who may find things challenging at times, we thought this added extra would be a very valuable experience. Animals really can help people heal and feel relaxed!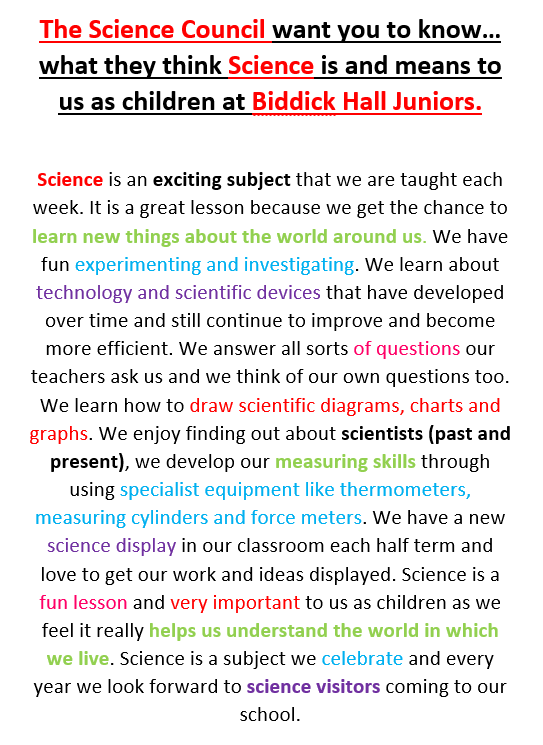 Last year we ran our first ever Science Council that comprised off a class representative from each class across the school. We met weekly with Mrs Drake on a Monday lunchtime and had a great time raising the profile of Science in our school.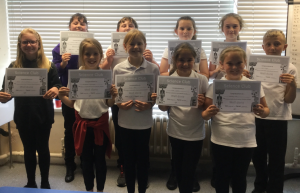 What did we achieve?
We ensured a Science display board was prominent in school which showed our members and activities we had undertaken through out the year. It was updated termly in line with achievements and successes.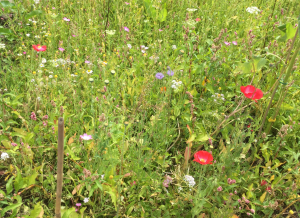 We claimed a section of unused garden and after clearing the area, we planted, watered and tended to an area designed specifically to become a wildflower plot to encourage bees and other insects to visit the wildlife garden. The flowers grew and were beautiful and most importantly of all attracted bees. We wanted to do this as we had discussed, with links to the NEWS at the time, the worry of the decline of the bee species. The Science Council were proud to have helped  this very important species have an area of pollen abundance to help them in their survival.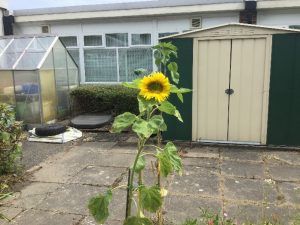 Linked, to this we then decided to have a sunflower competition throughout the school – the healthiest looking sunflower (class 5BA) celebrated with pride and a certificate of success. All sunflowers were then added to the flower patch to further support insects and bees in our local environment.
We also spent lunchtimes experimenting, planning ideas, researching scientific concepts such as seasonal change and had a great time doing so.
What's new?
This year, new class representative School Science Council members have been selected and after only a few weeks of meeting we have had some great suggestions as to how Science can impact our school environment this year.
We have again discussed possibilities for the use of the plot of land in the wildlife area. As a group we decided this year we would like to encourage growth in the form of fruit or vegetables. We feel that this would create good talk amongst the school about plants and elements needed for growth including selective breeding. We hope to grow pumpkins, herbs, courgettes and tomatoes and create a buzz with another class competition linked to this. If our school cooks could benefit from the produce too, we are keen to share. The pumpkins that will ripen over late August and September 2020 will come in handy for Harvest celebrations and donations to the local community or even the yearly Spooktacular disco of 2020.
We have also persuaded Mrs Drake that since we are an important Science Council, we need to look the part so are currently working on making some Science lab-type coats that are going to be covered with scientific concepts, vocabulary and pictures. We can't wait to show you what we look like wearing them when they are finished.